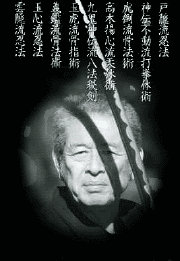 The Bujinkan (武神館) is an international martial arts organization based in Japan and headed by Masaaki Hatsumi. The combat system taught by this organization comprises nine separate ryūha, or schools, which are collectively referred to as Bujinkan Budō Taijutsu. The Bujinkan is most commonly associated with ninjutsu. However, Masaaki Hatsumi uses the term Budo (meaning martial way) as he says the ryūha are descended from historical samurai schools that teach samurai martial tactics and ninjutsu schools that teach ninja tactics.
The Bujinkan organization incorporates the teachings of the martial arts lineages (ryūha) that Masaaki Hatsumi learned from Takamatsu Toshitsugu under the banner of Bujinkan Budo Taijutsu.
Gyokushin-ryū Ninpō
Edit
Gyokushin-ryū Ninpō ("The Jeweled Heart School") is taught by the Bujinkan martial arts organization.
Togakure-ryū
Edit
According to Bujinkan members, Ninja Jūhakkei (the eighteen disciplines) were first identified in the scrolls of Togakure-ryū 戸隠流, or "School of the Hidden Door", founded during the Oho period (1161–62) by one Daisuke Nishina (Togakure), who learned a life view and techniques (ninjutsu) from Kagakure Doshi.